Description
IC 7408 Quad 2 input AND Gate IC
The 7408 is a high-speed CMOS Logic Quad AND Gate. 7408 contains Four independent AND gates in one package. An AND gate is a digital logic gate with two or more inputs and one output that performs logical conjunction. The output of an AND gate is true only when all of the inputs are true. If one or more of an AND gate's inputs are false, then the output of the AND gate is false.( Click for wide range of  Logic Gates at solicstores.in).
The 74HC08 provides four independent 2-input AND gates with standard push-pull outputs. The device is designed for operation with a power supply range of 2.0V to 6.0V.
Pin configuration
Pin Number
Description
AND GATE 1
1
A1-INPUT1 of GATE 1
2
B1-INPUT2 of GATE 1
3
Y1-OUTPUT of GATE1
AND GATE 2
4
A2-INPUT1 of GATE 2
5
B2-INPUT2 of GATE 2
6
Y2-OUTPUT of GATE2
AND GATE 3
9
A3-INPUT1 of GATE 3
10
B3-INPUT2 of GATE 3
8
Y3-OUTPUT of GATE3
AND GATE 4
12
A4-INPUT1 of GATE 4
13
B4-INPUT2 of GATE 4
11
Y4-OUTPUT of GATE4
SHARED TERMINALS
7
GND- connected to ground
14
VCC-Connected to a positive voltage to provide power to all four gates
Internal structure  7408 IC
The four AND gates in the chip mentioned earlier are connected internally as shown in the diagram below.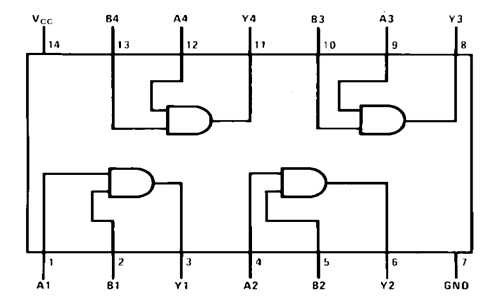 Each AND gate here performs AND operation for two logic inputs. For example, gate1 performs AND operation between A1 and B1 and provides an output at the Y1 terminal.
The truth table of AND gate is given as,
| | | |
| --- | --- | --- |
| Input1 | Input2 | AND Output |
| LOW | LOW | LOW |
| HIGH | LOW | LOW |
| LOW | HIGH | LOW |
| HIGH | HIGH | HIGH |
Features and Specifications
Operating voltage range:  +4.75V to +5.25V
Recommended operating voltage: +5V
Maximum supply voltage:+7V
Maximum current allowed to draw through each gate output: 8mA
CMOS Low Power Consumption
Typical Rise Time: 18ns
Typical Fall Time: 18ns
Operating temperature:0°C  to 70°C
Storage Temperature: -65°C  to 150°C
Applications
General-purpose ANDlogic operation
Measuring Instruments
Digital Electronics
Servers
ALUs
Memory units
Networking
Digital systems
Package Includes :
1 x IC 7408 Quad 2 input AND Gate IC